A Litany of Troubles part 2 Post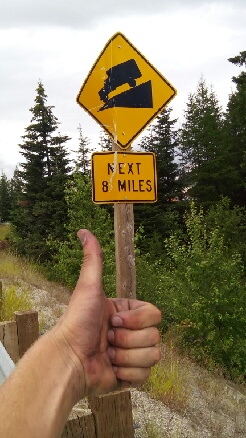 I knew that I had about 25 miles to Chewelah, no idea how many from there to Colville. I was in for quite a climb from usk through the Colville national forest. I rode the first fifteen miles in one go, climbing up up and up. Stopped to drink the last of my water and eat a bar about a mile from the pass. Started riding again and saw this sign after a mile or so. In that moment, I couldn't think of a more beautiful sight.
Cruised down to Chewelah, though I had a constant fear of a spoke going out. I was really careful to avoid any bumps.
Filled water in Chewelah, had a snack, hit the road, highway 395 into Colville. Actually only twenty some miles between the two towns, and I had a bit of a tailwind. Finally, some good fortune!
Stopped at Colville library to find directions to bike shop. Stopped by, their bike guy was out for the day (it's a general sports store), but he'll be there at 8am tomorrow.
Finally made my way to Angie's farm a few miles out of town, right at 5:30, just in time to see the animal milking (and I got to milk a goat!)
A long, and at times frustrating day, but hopefully I can get my bike straightened out tomorrow and be on my way.
My hosts are super great, and a huge help, especially in the route advice.
Despite all the bad stuff today, I'm ending it in pretty high spirits. A forced opportunity to sleep in is definitely welcome.
Posted: 9:19 07-20-2016 109
Follow Me