A Good, Good Day Post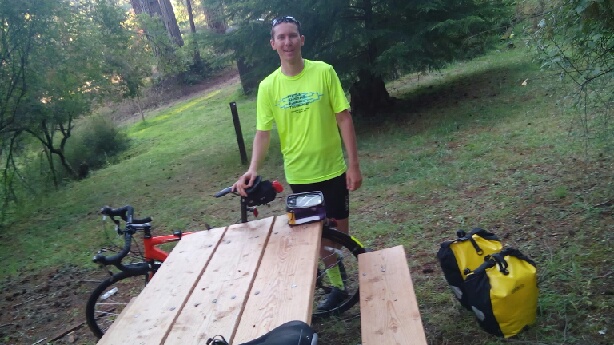 I traveled about 82.9 miles today.
All in all, a good day today. Despite a flat tire from a slow leak overnight, got to the bike shop just a little after they opened. Had then look at my bearing. The non-drive side cone was super pitted, and a bearing ball was missing. Not sure how that happened, but I assume it was when the spoke was being replaced. The bearings shouldn't have been open for that, though... another bicycle mystery. Cody at the bike shop was super great. In addition to figuring out my bearing problem and replacing the shot bearing, he adjusted the spoke tension in my rear wheel and cleaned the rear sprocket set. Only charged me $25. I was thrilled. Met up with my friend Eric in Burlington. We rode to Anacortes and caught a ferry to Orcas island. Rode around the island to the state park to camp for the night. We'll bike mount constitution tomorrow morning, then head to Friday harbor for a while before returning to the mainland. I bought a train ticket for Seattle to Portland for Tuesday morning. I also bought a red eye plane ticket for August 6 back to MN from San Francisco. It's weird having a date to work towards now. Should still give me a few days in sf. Lots of ripe blackberries along the road and trails today. Eric and I stopped to pick some for an afternoon snack. Yum! Feeling good today, it's nice to see a familiar face. Also great to smell the ocean. Looking forward to next few days, and next two weeks.
Posted: 22:02 07-23-2016 113
Follow Me