Biking Dude Blog
Archives:
2019
2016 -
Aug
Jul
Jun
May
Apr
05/31/2016
Jack's Bike Shop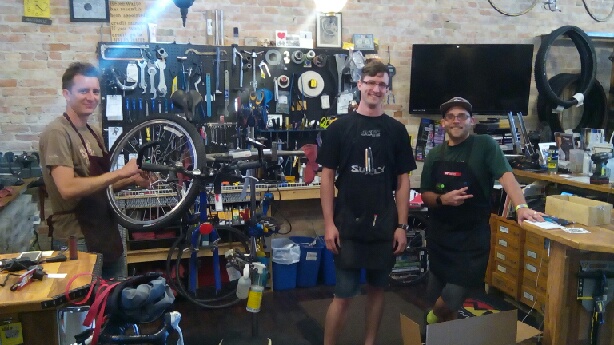 This is the crew at Jack's Bike shop. Chad, Cody, and Damon. Through a series of mistakes, I managed to lose both pairs of good socks that I brought with me. So, I stopped here once I got to Bay City to get socks and check on my tires and chain. Damon was super helpful and recommended some good socks for my trip, and I got two pairs. Hopefully it will be longer than two weeks before I lose these socks. I also got my chain replaced and new tires. Cody did a tour last year from Bar Harbour Maine to Seattle, and had great recommendations for tires and routes, and we talked about our respective trips for a while. These guys are seriously great, and were really supportive of my trip. Besides giving me a discount on the parts I bought and not charging for labor, they gave me a beer and some pizza while I waited and hooked me up with a really sweet sticker from their store (which has been around for 40 years). Thanks guys! Let me know if you ever make it to Minnesota, I've got a shelf full of homebrew beer for you to try.
---
Biking Journal

I traveled about 92.2 miles today.
I actually biked 75.4 miles yesterday, and 88.8 today, but I said 72 yesterday, so I'm adding the extra on today. Really nice ride to Bay City today. Followed bike route 20 most of the way. Plenty of paved trails and flat, scenic country side. The pictured us from my stop at otter lake. On one of the trails in really good condition, I decided to go almost all out did a minute and hit 28.3 mph on flat ground. Just a fun little thing to do, average speed is much more important. I met a really nice family in Millington who had good advice on getting to Vassar. They also suggested that I ride the San Juan islands when I get to Washington, so I'm now gong to try to rope some Washington people into doing that with me. Stopped at a bike shop in bay city this afternoon, then got groceries at Aldi! I'm really excited about this because that is where I usually shop, and I haven't been to one in over a month. I just really like how efficiently they run (and how that efficiency is reflected in their prices). Staying with Greg and his family today. They put me up in their RV that they have out back. Very cool. Greg is a pastor at the church across the street, and is a very caring, giving person.
---
Peacock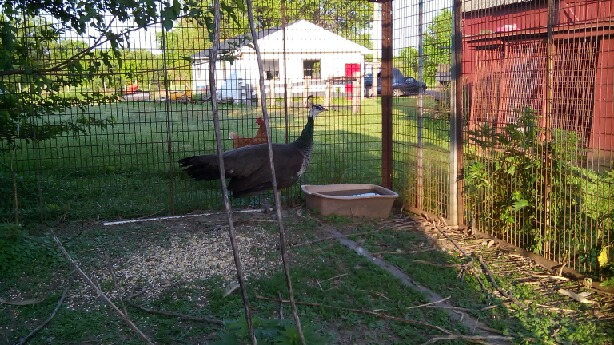 ---
Losing the Olin Challenge?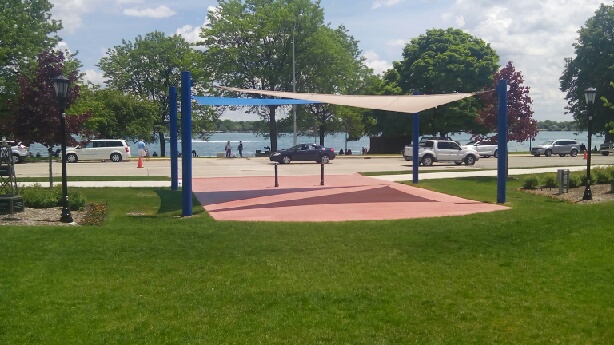 Quick picture from yesterday in St Catherine's. This was in the square downtown, two triangular shade tarps in blue and silver, but the shadow they cast reminds me a lot of the center of they Olin O. Just a fluke, but a pretty cool one.
---
05/30/2016
Back in the States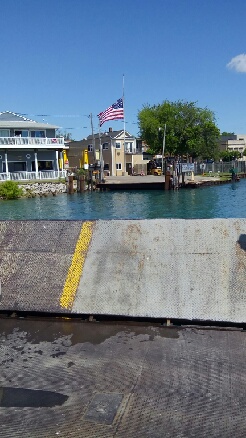 I traveled about 72 miles today.
If I had a ferry, I'd go out on the river. And if I had a bicycle, I'd ride it on my ferry. Any Lyle Lovett fans out there? Took the blue water ferry across the st Catharine river today, bringing me back to the USA ruby in the middle of memorial day. In fact, as I was riding up to the ferry in Sombra, some one in marine city slot off an actual canon. That sure made me jump! Met up with Joe and his family (Joe is the brother of the dad of a guy I was in boy scouts with) in St Catharines for lunch before moving onwards to my stop in capac. My host, Lorrie, is absolutely wonderful, and showed me around her little farm (she has a peacock!). Tired tonight, but doing well. I've been scrambling a bit to find places to stay across Michigan, but I think I have things under control now, at least for the next few days.
---
05/29/2016
The Long Slog

I traveled about 110.8 miles today.
Finally broke into the triple digits, and not just by a little. For my Canadian friend reading this, that's about 175 km. But I made it, all the way from Tillsonburg to Chatham. I woke up at first light and was on the road by 6:40 this morning. I battled dirt roads, head wind, and incomplete maps before finally arriving at home base with Simon and his family in Chatham around 4:15. I had salt crystals stuck on the sides of my head from the wind drying out my sweat all day. Special thanks to Emma and Rick (I think, sorry, it's been a long day) who offered me water when I was stopped in front of their house checking directions, and then offered me some local knowledge to improve my route. I'll be back in the states tomorrow, crossing via ferry at Marine City before heading to Capac. Au Revoir Canada, it has been a wonderful little visit.

---
Older Posts
Newer Posts
Site Disclosure Statement