Biking Dude Blog
Archives:
2019
2016 -
Aug
Jul
Jun
May
Apr
06/30/2016
Biking Journal

I traveled about 98 miles today.
About 15 of that was from yesterday. Ran into some potentially very troublesome phone problems today. Feeling very stressed out about this. Host tonight is Fred, very wonderful fellow who made us fajitas. Also wanted to mention Rick and Dawn, the owners of the campground we used, who were very kind and generous to us. Hopefully will post more when I'm not feeling so stressed out.

---
Biking Journal
---
06/29/2016
Biking Journal

Fun day exploring the badlands and resting up for the next leg of the trip. Will post more later, going to bed early tonight.

---
Big Breakfast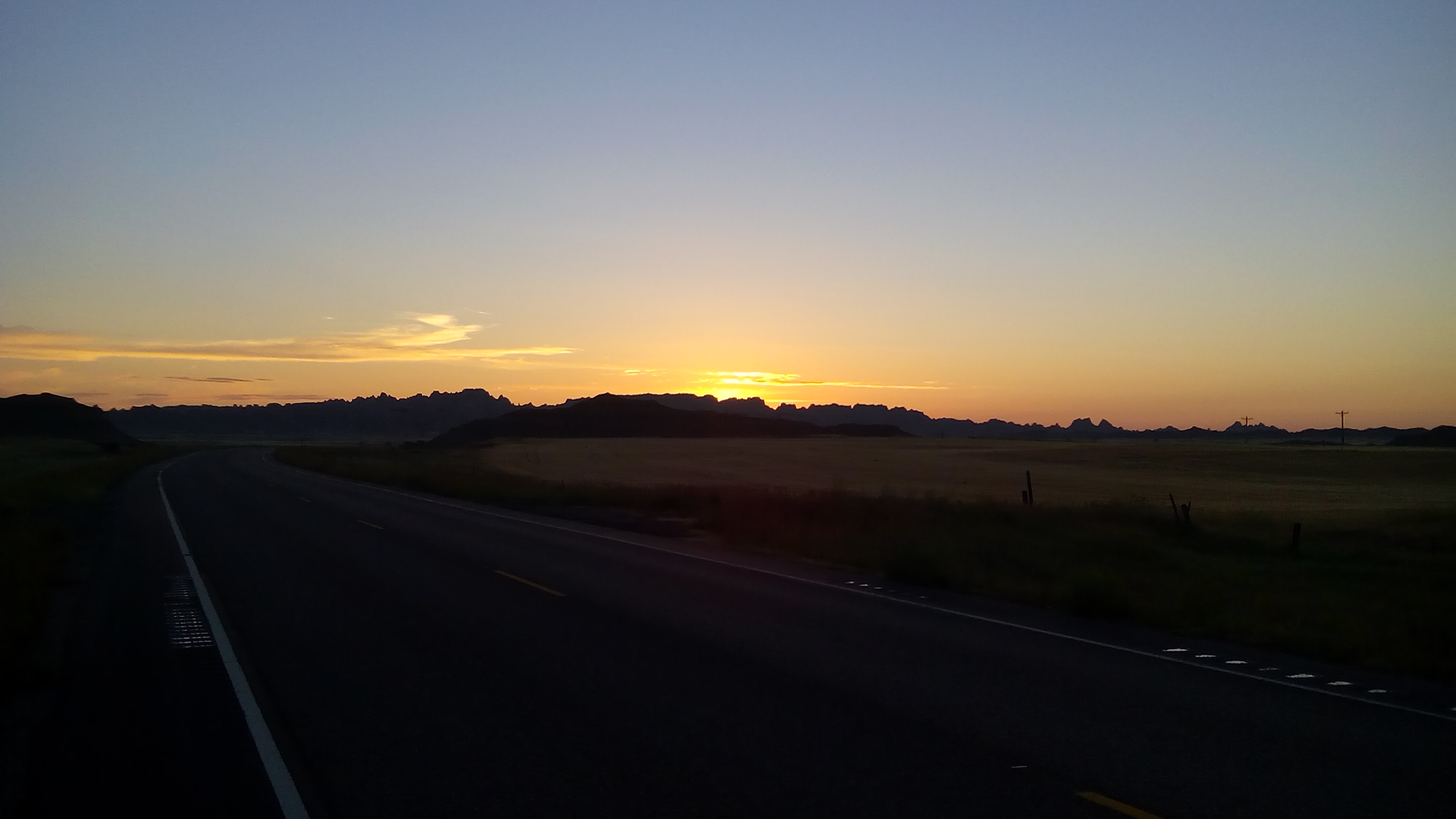 Got up a little before 5 this morning to watch to sunrise, then wrote postcard until 7, when they started the all you can eat pancake breakfast at the campground. I ate nine before I had to throw in the towel. Sourdough pancakes made from a hundred year old starter (or so they claim, that's a story I'd like to hear). Yum.
---
06/28/2016
Badlands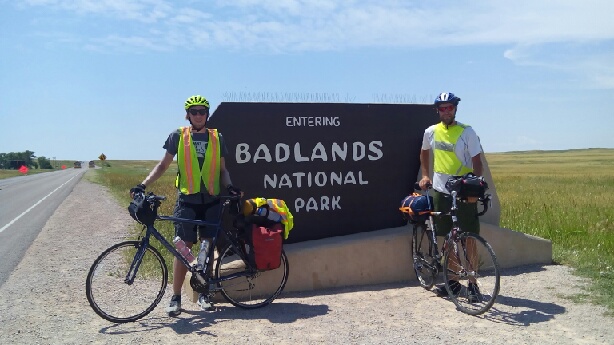 I traveled about 66.4 miles today.
After a good night's sleep at the motel in Philip, we biked 30 miles along 14 to Wall Drug. Had fun doing the tourist thing there. and got a sticker and ice cream. After filling up on FREE ICE WATER, we were ready to travel through the badlands along highway 240. The ride through they badlands had the most stunning sights that I've seen all trip (and that includes Niagara falls). It's hard to describe how incredible this place is. One overtook that we stopped by had juniper trees growing along the slope, and the wind blew their smell across the road as we looked across a landscape that has no business existing in the middle of the plains. And when we coasted down the winding downhills, the way the foreground and background (and all the inbetween ground) shifted against each other gave an almost surreal sense of depth and three dimensionality. We took our time going through the badlands, taking lots of pictures and soaking in the sights. We met some very wonderful people at one of the overlooks who have us some cold water and fresh cherries. Such a great treat, thanks so much to those kind strangers. Arrived in Interior SD around 4, and checked into the campground there. There's a storm coming in tonight, so the owner Rick, is letting us set up camp in one of the teepees to help stay dry. Really nice, easy going guy. The campground is the badlands motel and campground, great place to stay of you're in the area. Got some good at the badlands grocery in town, the a hamburger at the wagon wheel bar next door (with horses running around their pen just outside). Took shelter from the rain inside for a while before heading back to camp. Taking a rest day tomorrow, will hike around some trails in the badlands and maybe do a short day ride.
---
06/27/2016
Biking Buddy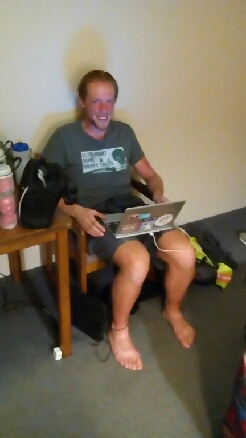 I traveled about 89.5 miles today.
This is Nathaniel. We met quite by chance at a gas station in Blunt, SD, on my way to Pierre. He is riding from Ithaca to Seattle, and we've decided to travel together for a while, probably until devils tower, when I go north to Montana and he guess west to Yellowstone. It's really great having anther person to travel with for a while. Nathaniel had found a host on couch surfing in Pierre for last night, so I was luckily able to stay there as well. Thanks to Mary, Daniel, Hannah, Isabel, Willy, Jesse, Jade, Hunter, and Sawyer for welcoming us into your home. After yesterday's grueling ride, a 90 mile trek to Philip with a light tailwind seemed like no big deal. The saga of tire trouble continued, though, as I got one flat in they morning from a hard thorn (called a goats head), and then another just 8 miles outside of Philip. Other than that, it was a fun day of riding, with great scenery, good roads, and rolling hills. Arrived in Philip and got some groceries and dinner (pizza), then for a room at the motel. Nice place, and being able to split the cost is great. Tomorrow we bike 30 miles west to wall drug, then go south and back east a little through the badlands for another 30 miles. We'll take a rest day to hike/bike around the badlands a bit, then head to rapid city on Thursday. Also, apparently I hit the 2000 mile mark at some point yesterday. Hooray!
---
Older Posts
Newer Posts
Site Disclosure Statement