A Warm Welcome in Tonasket Post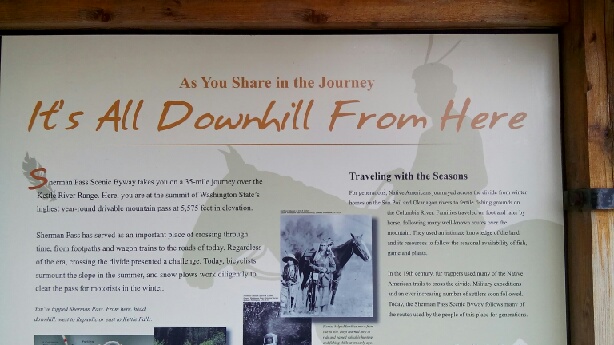 I traveled about 97.9 miles today.
Had a great time yesterday with Angie, Dennis, Claire, Elley, Rachel, and Luke. Their farm/creamery is really cool, and they have so many different kinds of animals, birds especially. Even a pair of emus.
Biked to Clark's in Colville at 8am. Their bike guy, Danny, was really great. Fixed up my rear wheel with a new spoke and got me a pair of new spare tubes, all for under $32. I was very happy about that.
Lots of climbing today, going over Sherman pass and Wauconda pass. Nice on the downhill though, lots of great views.
Got lunch at Subway in Republic halfway through.
Got to Tonasket around 6, staying at the visitor center, which is open to bike camping. They were having a shindig there, so I was fed dinner and sampled some wine from a local winery. Such a great surprise and welcome.
Here is the crazy part: I met Jack Black's dad. Yup, that Jack Black. Linda, Tom Black's wife, does some stuff with keeping the visitor center open for cyclists to use, and was really happy that there were cyclists here today. Apparently, they're flying out east tomorrow to be extras in some polka king movie that their son/stepson is in. Wild.
Met Jo at the visitor center. She's doing a short trip from Anacortes to Spokane (where she lives). Hopes to move up to longer tours in the future. She really likes the pre glued patches, so I traded my extra pre glued patches for some of her regular patches. I told her they were junk, but she claimed they had worked fine, so we were both happy with the trade.
Feeling good, getting close to Anacortes.
Posted: 23:21 07-20-2016 110
---
Comments:
Jul 22, 2016 - Les
Always good to read about where you are and what you are doing. Good stories!! Stay safe Kory!!
---
---
Ask a Question
---


www.BikingDude.com
Follow Me