Spot Post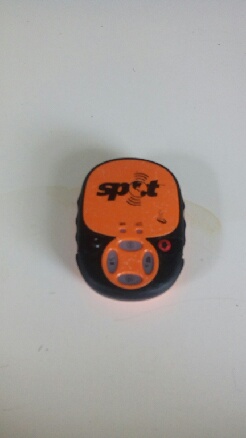 I traveled about 50.5 miles today.
This is my spot, it's how I track my location on my bike trip. I don't know the nitty gritty technical details of how it works, but it pings my GPS location every 15 minutes or so to a server, and those locations are then displayed on my website. It only works when active, and I try to turn it off when I'm taking a longer rest and when I'm done for the day. Today was pretty easy, just fifty miles to Ithaca, and very few hills to speak of. Overcast all day, but no rain, so things were nice and cool. I'll be taking it easy the next few days as I go to Rochester and eventually Niagara Falls. My left knee had been bothering me a little. I tried adjusting my cleat position, which seemed to help a little. I have half and half pedals (clip on one side, flat on the other) and I tried riding about half of today with my left foot on the flat side instead of clipped in. My "natural" foot position was very similar to the position when clipped in, so maybe that's not the problem. I'll try raising the seat post a bit more tomorrow, I think another half inch or so might help. I'm also going to try to take a rest day soon, that may also help. I'm stay with Geoff today, a friend from college who is going to graduate school at Cornell. As fun as it has been meeting many new people the past few days, it's very nice to see a familiar face.
Posted: 14:53 05-21-2016 18
---
Comments:
May 21, 2016 - Les Potapczyk
Hi Kory....looking forward to seeing you in Niagara Falls. Hope you telephone us a day before you plan to be here so one of us can greet you properly. Ride safely...Les and Peggy
---
Jul 17, 2016 - Lyn Raymond
Got your postcard, thank you for thinking of us! Glad to hear you've gotten so far, and sound like you're doing well. I haven't checked your blog for awhile...so I've got a bit of catching up to do. Keep it up and I hope the wind's always (or at least ALMOST always) at your back!
---
---
Ask a Question
---


www.BikingDude.com
Follow Me