Biking Journal Post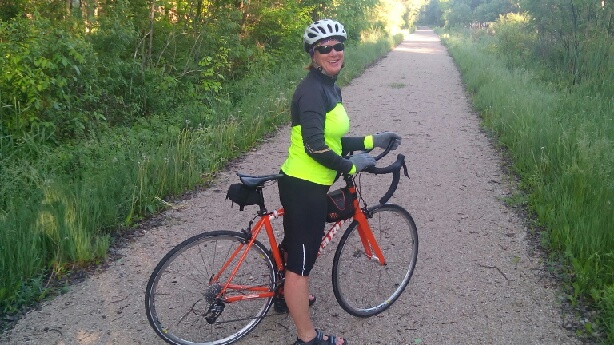 I traveled about 70 miles today.
This is Terri, my host from last night. She rode out with me for seven or eight miles this morning. Really cool person, she did a tour down the west coast from Canada to Mexico a few years ago.
Most of my ride today was along highway 10. The adventure cycling route and bike route 20 go farther north, but I was told that the highway had decent shoulders. There wasn't much traffic, and the shoulders were acceptable, though not great. The really bad part was the 8 or so miles from Scotsville to Ludington. The highway went to two lanes and the shoulder disappeared. However, there is a nice looking bike path/sidewalk on the side of the road. Unfortunately, whoever was in charge of building this wasn't thinking very clearly, because the sidewalk has vertical instead of sloped curbs when intersecting with a driveway or cross road, making the bike path unusable. Luckily, the highway was only 55 mph, as I was forced to ride in the right hand lane and have the cars just go around me. Also, there wasn't too much traffic, so it didn't slow anyone down. Still, not a fun ride.
Visited a brewery in Ludington before heading down bike route 35 to Pentwater. That was a nice ride. Rolling hills, good roads, low traffic, great scenery.
Got to my host a little after 2 (Larry and Zan), which gave me some much needed time to relax before helping make dinner. Showed Larry how to make a long island iced tea.
All in all, a good day, just a little stressful riding along 10 in the morning.
Posted: 20:33 06-03-2016 50
---
Comments:
Jun 03, 2016 - Les Potapczyk
You're doing great Kory! Be safe!! This weekend Peggy and I are working the Niagara Falls Woman's Half Marathon. 2 600+ women entered. Should be fun on Sunday!
---
---
Ask a Question
---


www.BikingDude.com
Follow Me